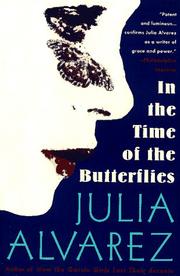 "Suddenly, the dark fills with spies who are paid to hear things and report them down at Security. Don Enrique claims Trujillo needs help in running this country. Don Enrique's daughter says it's about time women took over the government. Words repeated, distorted, words recreated by those who might bear them a grudge, words stitched to words until they are the winding sheet the family will be buried in when their bodies are found dumped in a ditch, their tongues cut off for speaking too much".
–Julia Alvarez
On the Carribean island of Hispanola exists two countries, the Dominican Republic and Haiti, which were both gravely affected by the thirty-one year long reign of Dominican dictator Rafael Trujillo during the twentienth century.
Per Amazon.com, "It is November 25, 1960, and three beautiful sisters have been found near their wrecked Jeep at the bottom of a 150-foot cliff on the north coast of the Dominican Republic. The official state newspaper reports their deaths as accidental. It does not mention that a fourth sister lives. Nor does it explain that the sisters were among the leading opponents of Gen. Rafael Leonidas Trujillo's dictatorship. It doesn't have to. Everybody knows of Las Mariposas—'The Butterflies'. Through the art and magic of Julia Alvarez's imagination, the martyred Butterflies live again in this novel of courage and love, and the human cost of political oppression".